Akin (Wale Ojo) is a top manager for a leading Lagos corporation. He has an idea that will change his company and easily lead to his appointment as CEO of the company. He does not care who is effected in his department or if his current boss looses her job as a result. Therefore his boss will not let him know the location of the retreat whee the company business will take place. Akin puts his loyal but easily influenced assistant Alex ( Hafiz Oyetoro) on the case and proceeds to the airport to await the call with the details of the destination.
Mary ( Nse Ikpe-Etim) is a fashion designer. She is the main creative mind in her store but continues to be bullied by the store owner who takes credit for her work. She is also having issues at her village between her sister and his husband and her father wants her to come home to mediate the dispute between the two. Mary is given the time off of work and its at the airport where she runs into Akin (literally) and the two switch blackberries.
Kembi Adesoye delivers a well written script and manages to mix in Igbo, Yoruba and some Ghanaian into the dialogue. A happy coincidence is that both Mary's friend at work and Akin's assistant are both named Alex so texts coming and going from each go undetected even after they have switched phones. The devices used to acknowledge the swap is the ring tone of Mary's phone. When Akin first hears it he thinks its someone else's until he discovers the strange tone is coming from his pocket. Both lead characters of Akin and Mary are well written. Akin initially comes across as the no nonsense business man that is totally out of his element in the country town of Owerri while Mary is the soft meek designer that lacks the confidence to stand up for herself and her work. Both grow during the film and in fact do each others task since they have not only swapped phones but destinations as well.
Costume designer Adesuwa Iyen Agbonifo has a great assignment on this film considering one of the main characters is a dress designer can produced many bright colour outfits and native attire for the characters. The business characters are all dressed in traditional business fare. Mary's sister Cynthia (Ada Ameh) is an interesting contrast in her police / military outfit by day and her traditional Nigerian dress when she is off duty in her village. Akin's mother has a rich wardrobe of a well to do resort town resident accompanied with traditional head dresses.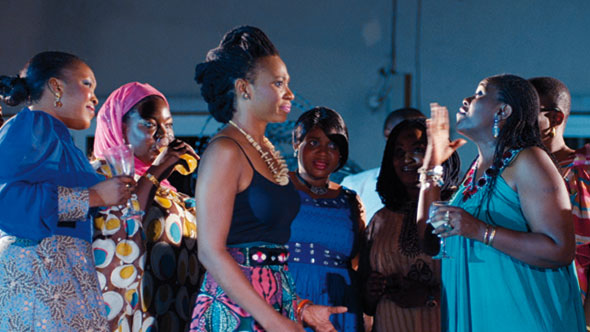 Director Kunle Afolayan takes a shot at a comedy for the first time. He is the son of a famous Nigerian director who started out in the banking industry. None of his other siblings follow into his fathers profession. Kunle decided to direct and
Phone Swap
is a departure from his two prior films in the drama and thriller arena.
Editor Yemi Jolaoso does an excellent job with the materials. The film features many cuts between characters in different locations and often goes to the split screen route which can be risky but fits the narrative well here. It's through the split screen sequences as they talk on the phone that that Mary and Akin's relationship grows and they recount their progress working on each others tasks.
A key well edited sequence is the airport swap incident where Mary and Akin run into each other and the cut goes to each phone sliding away from the impact area then picked up by passers by and returned to the wrong person is a well edited sequence of the key moment in the film. The scenes between Akin and his mother are also edited well as again in two different locations can refers to known responses to each other over the phone.
One of the high comedic sequences in the film is the reaction of Akin and Mary's recent ex's when they call find a strange voice on the end of the respective phones. Followed by the steps each take to confront the supposed interlopers.
The soundtrack features songs with traditionally Nigerian rhythms, drums are predominate The movie theme
Fate has a Plan for Everyone
by Truth features drums, chanting, fast paced and uplifting lyrics.
With You
has more of a dance feel with some traditional beats in the chorus.
Life is Beautiful
is a very light piece with a slower beat and an island type sound.
The Production design led by Pat Nebo is a main element to show the contracts of the main characters situations. Akin insists that Mary stays at his mothers while in Abuja. Akin's mother's place is a lovely resort town gated estate with spacious rooms, a pool and and extensive garden. n enormous amount of space for one resident. Upon hearing this Cynthia insist that Akin stay with Mary's family. Their dwelling is a two room farmhouse with Mary's dad, children and cousins all residing under the same roof. The look of the small farming town is authentic and rural.
Mary's family in Owerie are well cast. Her dad (Chikla Okpala) has a strong performace as Mary's farmer dad who has to deal with an overbearing daughter and pending arrival of in laws. Her sister is great showing a mean tough law enforcer and then as the dutiful wife. Mary's co workers in the salon especially the actress that plays Alexis and the foil Alexis at Akin's shop is laugh out loud funny every time he hits the screen. Many local actors were used to play Akin's work associates at the company retreat in Abuja.
Kunle Afolayan crafted a highly watchable film with a good story and a cast lead by two talented lead actors The film is a good representation of Nigeria an anti- Nollywood film. Phone Swap is full of laugh out loud moments and shows how the most unlikely people can adapt to unexpected situations and circumstances. A film I can definitely recommend.
*** out of 4
Phone Swap | Kunle Afolayan | Nigeria | 2012 | 120 Minutes.
Inaugural Toronto Black Film Festival.