Using a multitude of first person interviews from the key sections of his life,
A Life in the Death of Joe Meek
tells the story of a ground breaking producer that was well know and sought after by musicians in the U.K. but not as popular with the public and even less so on this side of the Atlantic.
The piece starts with Meeks early years in Newent told through interviews with his younger brother Eric, his sister in law and the local doctor. Meek was the middle of three boys, not into sports therefore he clashed with his father. He would rather spend hours in the family shed using what ever he found find to make sound. Meek, an animal lover did not take to hunting so when tasked by his father to shoot birds that were nesting in a family orchard he instead rigged up some speakers using a distinct frequency instead to scare them off. Due to his paternal conflict he leaned more toward his mother who having always wanted a girl and took to dressing Joe up as one in her spare time.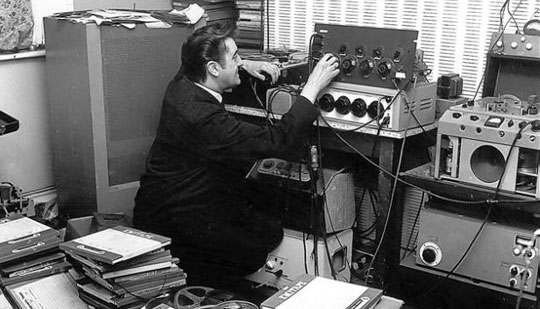 Having exhausted all avenues for developing his craft in his home the town Meek ventured off to London in 1954 where he took a job at the IBC but he feel out with them due to their stringent rules then moved on to a two man shop with Denis Preston before opening his own shop above a leathers store at 304 Holloway Road. It was here where Joe's creative talents flourished. The studio was up some very narrow stairs and turned out to be basically an unconverted flat. He used all of the rooms to get the sound he wanted especially different and unique echoes. He would put bands in the bathtub. Stomp on the stairs to establish a beat and was one of the first to mic the instruments themselves. He was also a pioneer in looping using a short section of music played back and repeated which later became the basis of modern hip hop music. But he is most know for pushing the sound to the edge and over or overloading tape. Meek worked in stereo at a time when everything on the radio was mono. Some of his finished products were so distorted that when he went to get them pressed at the big labels they often refused at first.
Meek's most famous hit was
Telestar
by the Tornadoes a number one hit on both sides of the Atlantic in 1962. He also saw the rise of the jukebox and created songs that would sound good in that format. But his success in the music could not be repeated in his private life. Meek was quite openly gay in a time in the U.K when homosexuality was illegal. He was arrested at 33 and his name printed in the papers which he never fully got over.
Many of the biggest musician of the day came through Meeks studio. Jimmy page was a session player along with Ritchie Blackmore and Steve Howe. Leading artist from David Bowie to Tom Jones and Rod Stewart passed through his doors.
A Life in the Death of Joe Meek
is a comprehensive look at an innovative but complicated individual. It may not find the mainstream as the songs are not easily recognizable toe tappers to a North American audience but the story of the central figure is deserving of a modern telling of his story.
**
1/2
Out of 4.
A Life in the Death of Joe Meek | Howard S. Berger / Susan Stahman | U.S.A. | 2014 | 122 Minutes.
Tags: IBC, Looping, Overdub, Reverb, Cole Miking, Independent Producer, Echo effects.