After a childhood incident In-su (Kang Ha-neul) left his rural hometown for United States to study but had returned home to Seoul as the film opens. In-su has a knack for seeing ghosts who often ask him for help to settle grudges in order to move from this world to the next. His Uncle Sun-il (Kim jung-tae) who also has this ability feels his nephew should ignore them and they will leave him alone.
In-su decides to go back to his hometown to live with his Uncle. Shortly after his arrival he in the encounters a young female ghost (Kim So-Eun) who does not want any favours for her company. Life in the rural school is difficult the power clique lead by Hyun-ji (Han Hye Rin ) and her boyfriend Hae -chul (Park Doo-sik) terrorize everyone in the class picking on the weaker students while the other in the middle remain silent happy that their attention is not on them.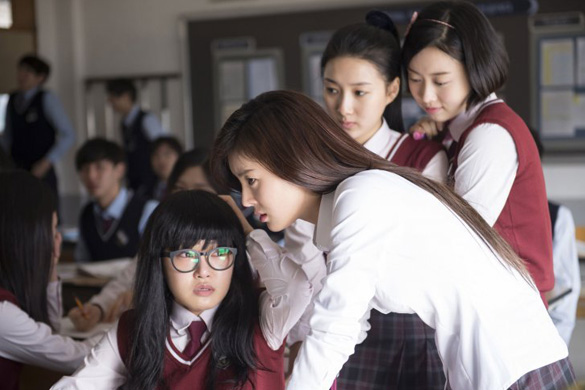 Soon the members of the clique begin to disappear one by one and the rumour around school is that a killer known as The Mask is preying on the students. In-su continues to keep company with the mysterious ghost their budding romance adds an element of both tenderness and comedy. One particularly poignant exchange occurs as In-su is studying in his room. He knows that her new friend is present but everytime he looks where she's at she disappears and moves to another location frustrating In-su.
Director Oh In-Chun delivers a horror film for those that prefer subtle scares. The piece has its bumps and jolts but never becomes overly graphic. A bloody palm glass strike is about as macabre as it gets. Instead the focus is on the evils of bullying especially that being neutral or ignoring someone else being bullied makes you just as guilty of the act as those directly involved.
Kang Ha Neul is very strong as the male lead In-Su. He is in about every frame of the film, has to play opposite someone that no one else can see in addition to ranging from being meek to standing up against the clique to confronting the Mask. Kim So-Eun is equally as good as the female student ghost. She doesn't know her name, cannot remember what happened to her plus although she knows that she is dead she has to be believable as her feelings develop for In-su. Kim Jung Tae is an excellent source of comic relief as In-su's agoraphobic Uncle.
Oh In-Chun hit his mark with the plan for this film. It's not too violent to make it a genre film allowing its anti-bullying message access to a wider audience. The film is wittier and muter than expected. It's a film that I can recommend.
*** out of 4
Mourning Grave | Oh In- Chun | South Korea | 2014 | 90 Minutes.
Tags: Ghosts, Visions, Bullying, Grudge, Revenge, Childhood Trauma, Agoraphobia.