When you think of Spain certain flair comes to mind, openess about any topic, warmth, rich colours, passion and an indulgence in all of the senses. Paco Leon hits all of these notes with his film
Kiki, Love to Love.
The opening sequence of different pairs of animals copulating to a driving Latin beat interspersed with shots of fruit being devoured and rich vegetation gives the viewer a clue where this affair is headed.
The narrative follows 5 different stories each featuring a player that has a sexual fetish. Whenever the fetish is first described or presented on screen it is followed by a popup giving a dictionary explanation. The five story lines appear to be completely independent but Leon wraps them together at the end at an open-air festival. Leon himself takes a role in one of the stories to go along with his directing and writing credits. The inspiration comes from the Australian film
The Little Death
but Leon injects more drama into his film along with a Spanish soul.
Alex (Alex Garcia) and Natalia (Natalia Molina) have just enjoyed a spirited romp when she tells her partner how she became very excited while being held by a masked robber the other day. Alex wants details and to know if her reaction was more than it is when they are together. Up pops the term Harpaxophilia followed by madcap attempts by Alex through the rest of the film to stage an event where he can duplicate that day sparking the same reaction from Natalia. Next up are Paco and his wife Ana (Ana Katz) who's sexually relationship has hit a wall. In walks Paco's old flame Belen (Belen Cuesta) who has just broken up with her girlfriend, crashes with the couple and invite them to the sex club where she works. The pair are both taken by her open and frankness sparking their fetish of being aroused by a multi partner relationship. The coupling of Jose Luis ( Luis Bermejo) and Paloma (Mary Paz Sayago) brings the most laughs for all the wrong reasons. He's aroused by his partner sleeping, so he gives his disabled wife medication each night then has sex with her. Jose Luis moving around his dead weight wife is priceless along with her reaction to her new bumps and bruises plus the need to bribe the live in maid to keep her quiet.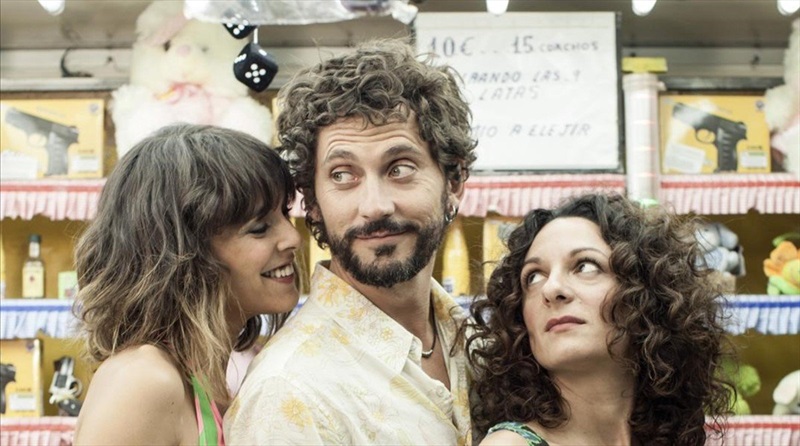 Belen Cuesta leads the cast with her performance. She portrays all that is fantasized about Spanish women. She's relaxed, passionate, open sexually, freely discussing all aspects of her life ready to absorb the next adventure from wherever it may come. Mary Paz Sayago's Paloma is the exact opposite. She is confined to a wheelchair, treats her husband with contempt, puts him constantly on the defensive and can only give him sexual satisfaction when she has no idea what's going on. Look for Alexandra Jiminez as Sandra. She's deaf, has constant problems with her hearing aid, works as a telephone translator with a strong fetish for fabrics especially silk. She's involved in the funniest scene in the film where she has to interpret a call to a sex line.
Paco Leon's
Kiki Live to Love
captures the Spanish spirit along the lines of a Pedro Almodovar film. There are many tip of the caps to Almodovar sprinkled throughout the piece. The narrative is peppered with many memorable comedic moments dotted by dramatic passages to balance out the scrip. Overall its a film that will have you leaving the theatre with a smile on your face and one that I can recommend.
***
1/2
Out of 4.
Kiki, Love to Love | Paco Leon | Spain | 2016 | 102 minutes.
Tags: Sexuality, Fetish, Harpaxophilia, Sex Club, Robbery, Plants, Fruit, Plastic Surgery, Silk, Open-air Festival.