Danish toymaker Thomas Dam created Good Luck Trolls in 1959 for his daughter to help her to get over her fear of monsters. They had big eyes, crazy long colourful hair, large heads, short bodies and bare feet. Directors Walt Dohrn and Mike Mitchell wanted to keep faithful to the original concept in
Trolls
. The directors also decided to explore the theme of happiness especially in a world that's currently full of so much negativity, isolationist and xenophobic rhetoric.
The films narrative is a linear as one can get. The tiny always happy tree dwelling Trolls spend their days doing three things; hugging, dancing and singing. One day the joyless ogre like Bergens discover the Trolls then determine that they can only find happiness all be it for a brief period when they eat a troll. Not wanting to overindulge they celebrate Trollstice once a year when their Chef (Christine Baranski) prepares the Trolls for eating until their prey plant fake wooden versions of themselves in the tree and escape to safety.
When we move to the meat of the story King Peppy (Jeffrey Tambor) leader of the escape with the motto No Troll Left Behind has taken a back seat to his daughter Princess Poppy (Anna Kendrick) who has never known the fear of the Bergens. She and her friends throw louder, bigger and brighter parties all year long despite the warning of Branch (Justin Timberlake) the only grumpy non singing, dancing or hugging Troll that sees an impending arrival of the Bergen around every corner. The now exiled Chef hears and sees one of these celebrations, arrives in their midst, abducts Poppy's friend in a scheme to return to Bergentown to become Queen. She now sees herself as the keeper of the Trolls making her the source of Bergen happiness.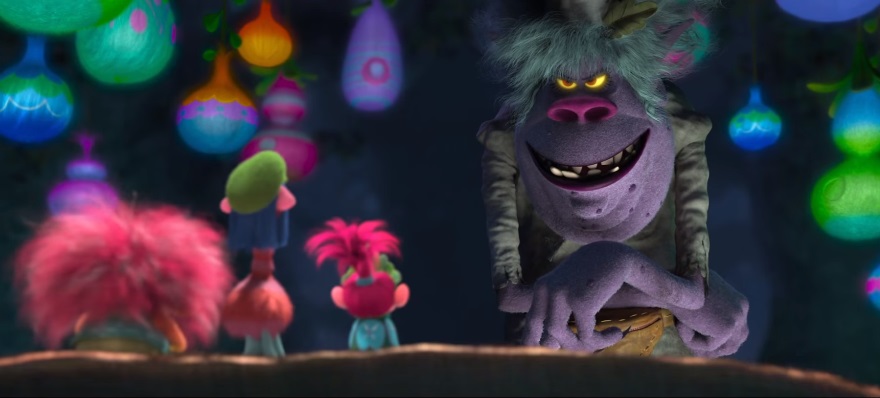 Co-directors Mike Mitchell (
Shrek Forever After
) and Walt Dorn who had prior writing and Art department work on
Shre
k 2 and
Madagascar
produce a psychedelic musical ride that would be worthy of any Haight & Ashbury dweller circa 1968. The bright colours pop; glitter spews abound around the disco setting of the new Troll homeland and in the forest as Poppy and Branch head back to Bergentown to rescue their friends. Writers Jonathan Aibel and Glenn Berger of
Kung Fu Panda
fame manage to embed a valuable lesson in the piece. Outside forces or elements are not required to find happiness. Rather happiness is something that comes from within but sometimes you just might need someone to show you how to find it.
Other than the visuals the other driver of the story is the films soundtrack. The tracks feature Justin Timberlake's
Cant's Stop The Feeling
that was written for the film, occupies a key moment in the plot and is well known due to heavy rotation airplay over the summer. Anna Kendrick sings a determined
Get Back Up Again
as she ventures into the forest initially alone in the pursuit of her friends as she battles plants and animals that seem friendly at first glance but have a pension for eating or trapping anything smaller than themselves. Zooey Deschanel sings a sad haunting version of Lionel Ritchie's
Hello
to properly introduction Brigitte the Bergen scullery maid that is in love with King Gristle (Christopher Mintz- Plasse).
Trolls
is a family friendly feature that will be loved by the younger set but has enough nuggets to keep adults engaged as well. The visuals are a trippy kaleidoscope of colour backed by an easy to follow plot with a valuable lesson baked in the final product. Children will be dancing in their seats and singing the films songs long after they leave the theatre. If they embrace the concept of happiness coming from what they already have they will tread lightly on their demands for the tie-in merchandising which will serve as a moment of growth and a point of relief for parents throughout the land.
***
1/2
Out of 4.
Trolls | Mike Mitchell / Walt Dohrn | USA | 2016 | 92 Minutes.
Tags: Good Luck Trolls, Musical, Animation, 3D, Happiness, Adventure, Glitter, Singing, Dancing, Hugging, Friendship, Betrayal, Exile.