Opening by breaking the fourth wall Juzo Itami's Ramen Western
Tampopo
signals early that it will be unlike any other movie experience the viewer has scene. 1930's style gangster (Koji Yakusho) and his girl (Fukumi Kuroda) storm into a theatre and occupy the front row. The gangster looks at then starts talking to the camera remarking that the audience is about to view a film as is he then goes on a rant on the thinks he does not like at a screening especially patrons fumbling with bags of chips. Right on cue a man in the second row tries to open a bag leading the gangster to almost strangle him. His last comment is about watch alarms going off. The scene plays like the current day warning to turn off your phone. Itami was right to note up front that nothing should distract the audience from this film. With that prelude complete the screwball action is off and running. The main thread is the story of Tampopo and her quest to make the perfect bowl of ramen to save the noodle shop of her late husband with regular large lines out front of the store. She begs regional Milk trucker Goro (Tsutomu Yamazaki) and his co-driver Gun a very young Ken Watanabe to help thus beginning a quest that's heavily western based, part Rocky with a dash of Avengers Assemble thrown in for good measure.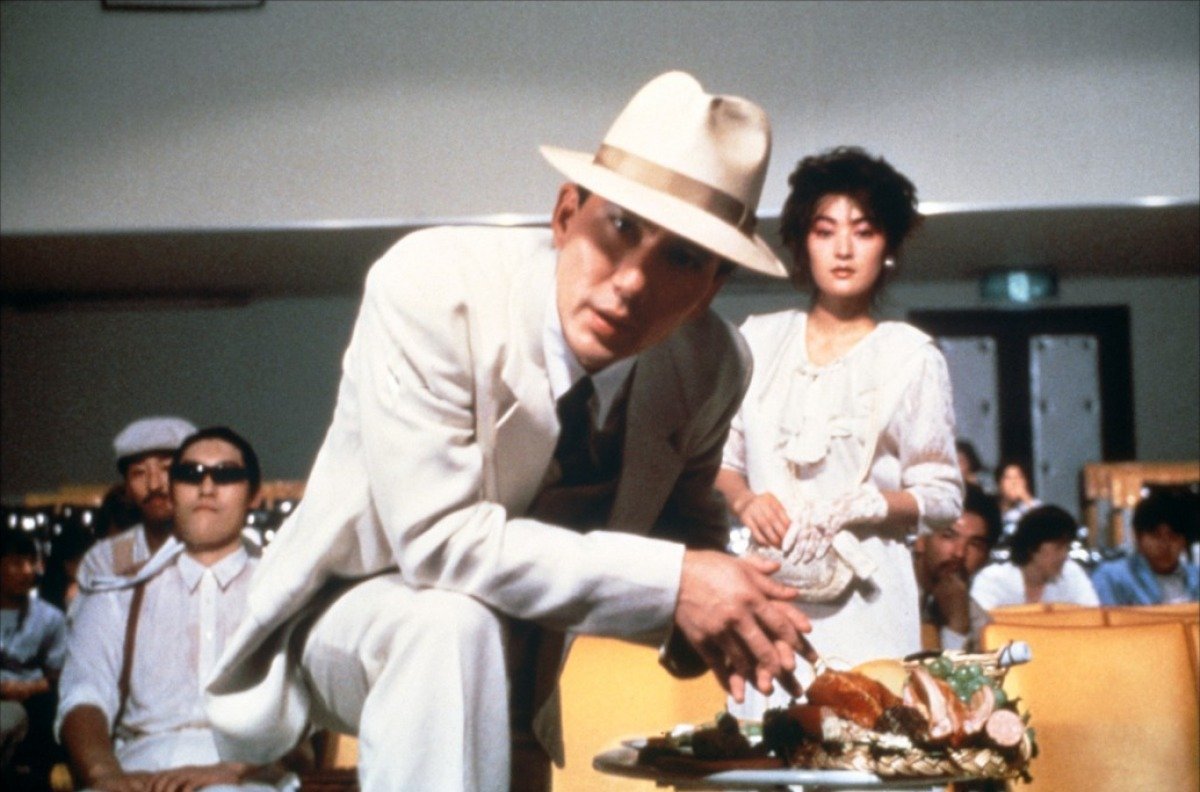 As if the two main plots are not enough to keep the audience engaged writer director Juzo Itami tosses in several non-sequitur interludes into the proceedings. One sequence in particular shows Itami's outstanding transition skills. Starting with a cat and mouse showdown between a shop owner and an elderly female customer who is obsessed with pinching foodstuff, moving to the shop owner locking eyes with an elderly distinguished gentlemen also eating Peking duck wrapped in pancake then concluding with a man running home to his wife suffering from karoshi at a critical moment.
However the central ingredient in the narrative is food. The starts and stops of the struggle to get the ramen broth right, a decadent scene in a hotel room with the gangster and his girl featuring egg yokes and prawns to a young girl catching oysters and feeding them to the gangster right out of her hand. Food is a symbol to bring the characters together, a sexual aid, a reason to seek out a sansei and a cause for a high noon showdown with a rival ramen house after insults are hurled back and forth.
Cowboy hat wearing Tsutomu Yamazaki leads the cast as Goro. He is determined to make Tampopo a successful ramen chef and grows to have feelings for her that he will not admit. He is knowledgeable on the good qualities of a ramen house and staff especially on how they need to pay attention to their customers. Nobuko Miyamoto is very effective as the meek, timid but resilient Tampopo. She is obsesses with crafting the classic recipe creating a bowl of ramen that will have her customers daring the last drops of broth from the bowl. Miyamoto shines brightest when she shows a bit of an edge demonstrated best when she chips in insulting a rival noodle house setting up the Western equivalent of a high noon duel the following day at her shop. Looks for a boyish Ken Wantabe as Gun. He differs to Goro most of the time but does have some of his own ideas to add in the groups quest for success.
Tampopo
is a piece of comedic originality. Just when the audience things the story has gone as close as possible to the edge another large leap follows. The strong cast excels especially with how seriously they take the subject matter. The team battle challengers to the shop like high noon showdowns in the Wild West. The food is mouth watering and an essential part of the narrative making the viewer compelled to hit their favourite ramen house moments after leaving the theatre to slurp down noodles respect the pork and drain the bowl of all its broth.
***** 5 Star Film.
Tampopo | Juzo Itami | Japan | 1985 | 114 Minutes.
Tags: Ramen, Noodles, Broth, Mik Truck, Con-man, Room Service, Theatre, Eggs, Prawns, Oyster, Toothache, Dentist.