The 2016 TIFF KIDS INTERNATIONAL FILM FESTIVAL APRIL 8-24 at Bell Lightbox.
LITTLE AZKALS - Screens Tuesday April 18 at 12:15. Ages 8-13
____________________________________________________________________________
Little Azkals
is a documentary full of firsts for a group of 22 U-11 soccer players from the Philippines. The government sports federation decided to make a real effort for the non soccer centric nation to increase the skill of a selected group of players to target future U-17, U-19 and even a future world cup. This is the first attempt at an Under 11 team as the former practice was to start targeting kids for an U-13 team. With younger kids there are new challenges. The kids are more attached to the parents and grandparents, likely to become homesick and need more supervision.
Director Baby Ruth Villarama uses her lens to highlight these unique elements. The first extended sequence displays the boys trip to the airport for their first trip abroad. There are difficulties with guardian's names on documents. Some kids are not willing or able to carry their own bags so coaches have to step in and the young players have struggles settling down into their seats ahead of take off.
Once the team hits England for their three week training stint the production begins to showcase the players skills. Villarama is also keen to keep the off field elements in focus as well. Everyday activities such as meals are highlighted as the Philippine and English cuisines are diametrically opposed. However back on the pitch the team hold their own impressing their English coaches in drills and prove very competitive in games with local teams that have been together for several years.
The feature also gives a voice to the parents left back home. They talk about their son's and their regular routine at home such as sleeping with parents or grandparents or one mothers trick of providing a piece of clothing with her perfume so her son is more comfortable while away.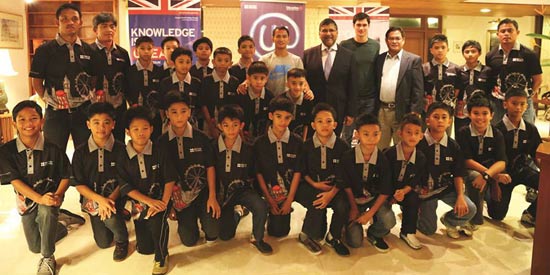 The narrative does not focus often on individuals but one player Kano Rojo stands out slightly from the group. He is from a small region and plays centreback for the team. He is slight but fearless and a key figure during a pivotal contest on the pitch. The cameras show Kano's local facility to clearly contrast his England experience.
Little Azkals
is an upbeat film abut a group of underdog kids. They embark to world class complex at the home of soccer to improve their skills and grow off the field as well. They suffer from homesickness but show their skills that will be a challenge in the future to continue to develop given their modest facilities at home.
***
1/2
Out of 4.
Little Azkals | Baby Ruth Villarama | Philippines / UK 2014 | 87 Minutes.
Tags: Documentary, Football, Soccer, National Team, Birmingham, Loughborough, Homesick, Training, England, Britain, Philippines, Azkals.