Shouri (Ai Hashimoto) is a modern day multiple media personality. She has an interactive blog, an agent booking her for modelling and acting jobs and she does live appearances on the weekends. Just about every one of her thoughts is broadcast, texted, recorded or distributed. During one of her outings handing out flyers she meets Ami (Juno Aonami) a fourteen year old girl that follows everything that Shouri puts out. Ami is quiet,meek and dresses in Shouri's patented Gothic Lolita style. She tells Shouri that she has come all the way from Yokohama to see her. Shouri is living with her boyfriend Kohei (Yu Inaba) who is a stage actor and in Shori's opinion self-absorbed. One day when Shori returns to the apartment she finds Ami there playing video games with Kohei. A line has to be drawn with fans she tells Kohei . But he has sympathy for Ami who has run away from home. It's Shouri who leaves the apartment deciding to find her own space.
Director Daigo Matsui continues a growing trend of using the movie screen as a display or home screen of a social media device. Bubbles appear containing text notes along with emoji always increasing in number and size, Shouri's blog home page pops up with the number of current viewers in the top right corner and the total viewers of the blog in the left. The camera acts in several sequences like a video being shot on a camera phone. The characters themselves spend a significant amount of time gazing into their phones, sending texts or using them to record or take pictures. However the film does have an original story. It's a completely different telling of the over zealous fan. In the usual mode Ami would try to take Shoui's place, take her boyfriend or begin to terrorize her idol. Instead the reverse occurs.
The subplot on Shouri's efforts to make it as an actress is also important. Her agent tries to get her work but is not leading her in the direction she wants to go. He is against her blog and her modern girl fashion and make up tips. He wants her to be serious and professional but when he stumbles into one of her broadcast where she is showing a little bit of skin he jumps on the opening to offer some dubious work even asking if Ami could join her to model together. Shouri sticks to her morale code and refuses the work.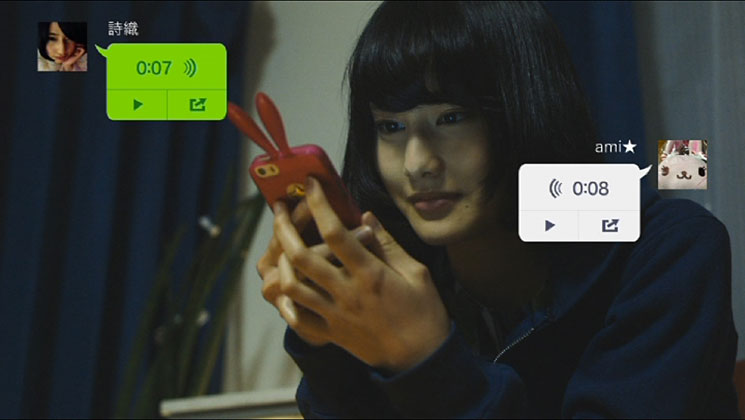 Ai Hashimoto shows a surprising range in the lead role of Shouri. At the films outset she is confident sure she is gong to be a star and proud of her legion of fans. As the film progresses she turns vulnerable, begs for attention and begins to give in slightly to the trolls on her blog that ask her to show some skin. She is wiling to go on calls for jobs that are not to her liking and considers loosing her morals at her agents suggestion. Juno Aonami is solid as Ami. She's a withdrawn 14 year old follower but does not waver from who she is. She stays steady through the film while those around her rise and fall emotionally.
Wonderful World End
is a story on the surface about modern technology, how it's at everyone's fingertips and can be totally absorbing. Today your're free to start your own blog, set up a You Tube channel and broadcast your every waking idea. But underneath this is a narrative about the relationship between two girls where the hero role flips and the story delivers a strong message on the willingness to draw a line in this high-speed disposable society.
*** Out of 4
Wonderful World End | Daigo Matusi | Japan | 2015 | 124 Minutes.
Tags: Video Blog, Actress, Model, Agent, Superfan, Yokohama, Runaway, iphone, emoji.