Scott Lang (Paul Rudd) has a particular set of skills; unfortunately his talents lie on the wrong side of the law. As the films opens Lang is released from San Quentin after a three-year stint picked up by his former cellmate Luis (Michael Pena) who already has job in mind for the old crew to pull off. Scott explains to the group that he is not a robber, did not use weapons and stole only from the rich who had wronged their community. He also has a young daughter that he wants to see grow up plus her future new step dad is a cop. At the same time Dr. Hank Pym (Michael Douglas) who was forced out of his company by his daughter Hope (Evangeline Lilly) and former protégé Dan Cross (Corey Stoll) learns that the Enterprise is on the verge of duplicating his work. Pym had shut down his research a generation ago as he saw the dangerous implications of the technology in the hands of the military.
Director Peyton Reed brings to the screen a superhero tale that is bright, funny, light hearted and ver playful. An approach used in last summers Marvel hit
Guardians of the Galaxy
(that also sneak peaked at Fantasia). Writer and original director Edgar Wright plays a balancing act between the comical and absurd and occasion wobbles towards the latter. The narrative shines presenting the chain of events that bring Pym and Lang together. Only outdone when it builds on the two father daughter relationships at the centre of the film.
As in any action film the action sequences, sound and massive destruction on a large scale are key. Ant- Man scores an A in all three categories. Look for a key plot point delivered through a Marvel cross franchise pollination sequence. Ant-Man's first appearance demonstrates how ordinary daily items turn into a minefields when your stature is reduced to that if a pea. The production design team did memorable work turning everyday hand held items into potential propellants of death. The destruction meter is turned way up as well especially when our hero has in his hand discs that can shrink or more spectacularly enlarge any item they strike.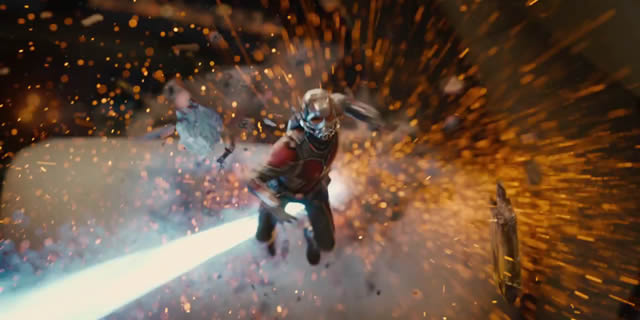 Paul Rudd turns in a solid performance as good hearted criminal Scott Lang. Rudd is at his strongest when he doggedly sticks with an activity despite multiple failures. Cory Stoll is notable as Pym's former protege turned rival Cross who keeps pushing to solve the Pym equation paying little attention to who or what gets destroyed as a result. Judy Greer is strong in a very limited role as Rudd's soon to be ex-wife Maggie. She could have been given more to do in the production but does deliver a key line;
Be the hero that your daughter thinks that you are
that motivates Scott in his battles.
Ant-Man
is an enjoyable film that keeps the heavy dramatics to a minimum. It's a true summer popcorn film that is pure family entertainment. Director Peyton Reed takes a differently slant on the super hero genre building seamlessly on Edgar Writes voice and vision. It's a film that I can recommend.
*** Out of 4.
Ant- Man | Peyton Reed | 2015 | U.S. A | 117 Minutes.
Tags; Science Fiction, Comic Book, Marvel, Burglary, Atoms, Defence Contract, Father / Daughter, Ex-Con.