Professor Lee is not going to class and its not the first time he has let his students down. He is in his car driving and picks up a dishevelled fellow to whom he has a connection.
A young and old fisherman are in a boat telling stories and discussing what species are found in salt water.
The professor and his travel partner go to a small town where they hire a boat to go to Jindo Island a even more remote area. It is in this remote area that they find the subject of the professor's search. His target has left everything in the world behind to become a shaman.
The fisherman catch an unusual fish that brings a lot of questions. The Fishermen turn on each other with severe consequences.
It turns out that the companion is a private detective hired to find the target for the professor and the professor and the target have a relationship that spans two worlds.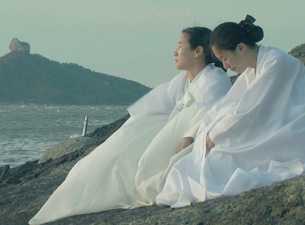 Shot in 3d A Fish delves into the relationship between this world and the next focusing on one soul that spans between both worlds and not able to realize that they should be headed to the next.
After a good start A Fish does not work out in the end. Ho-min Park fails to develop his characters and the film comes across as wallowing in a disjointed haze.
This is a film that I cannot recommend.
** out of 4
2011 South Korea 97 minutes