A series of short animated stories interwoven with snippets of the life story of Yoshiro Tatsumi. The biopic is based Tatsumi's manga autobiography A Drifting Life. The story starts at the aftermath of the atomic bomb in Hiroshima when Tatsumi was 10 years old.
The short focuses on a photographer that goes to Hiroshima to report on the state of the city and takes an iconic photo. Tatsumi's first writings as a teenager and his first pay check is discussed. His unemployed father is jealous and Yoshiro leaves home.
The next highlight centres around an older man near retirement and how he feels increasingly marginalized by his co workers, family and his pan to gain his revenge on everyone. In this time period we see Yoshiro Tatsumi as a youth living with two other cartoonists.
Another top short tells the store of a cartoonist who's weekly strip in a daily newspaper comes to an end. He wonders into a bathroom stall that is filled with pornography. At first the cartoonist is discussed but at the same time continually drawn back to the stall. He eventually is offered a job at an adult magazine but his obsession with bathroom pornography leads to his downfall.
The best story is based on a factory worker that has a pet monkey. The owner is ignored by the monkey who will not look at him at any time. The factory worker suffers an accident with one of the machines on the factory floor. He is given a severance package but is let go due to the damage he has caused the company. The factory worker now without a job decides to give the monkey to a zoo. However the monkey troop at the zoo attack the unknown simian producing horrifying results.
The story shifts to Tasumi in his later years and centres on the awards and recognition he has received over his life.
The last story reverts to world war two era. A young women is taking in US soldiers for sex. She spends a lot of time with one named Joe depicted as an oversized giant in animation. Joe leaves to go home to his wife and kids and the woman is distraught. She gets extremely inebriated as she would ted and takes out her frustration on her own father who is destitute and comes by on occasion to ask for some money treating him as she would any other man.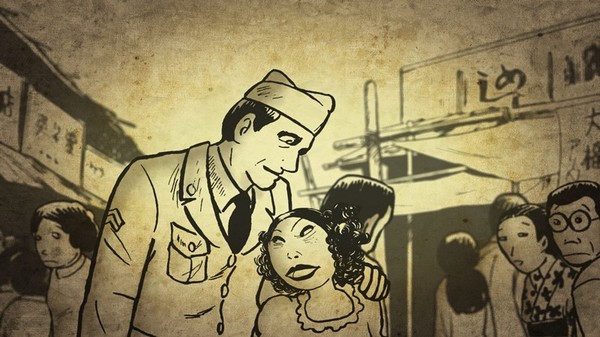 Lastly we shift to Tatsumi in live action at is desk then back to animation at a bookstore with the main characters from the movie reading Tatsumi short stories.
*** out of 4
Tatsumi Eric Khoo Singapore 94 minutes