Prison Dancer is an interactive web series film based on the viral video from the Philippines. The Prison has a new warden from a military background that has the prisoners marching to show discipline. One of the prisoners Ruperto Poblador aka Lola puts a dance step to the marching. Some of the tough guys Hookaps (Norman Alconel) Christian (Mikey Bustos) and Shakespeare ( Nicco Lorenzo ) like it and adapt it to boxing using moves from greatest boxer ever in their opinion Manny Paccao.
The interactive experience included the cast performing the songs from the screen at the side of the stage. The film is broken up into Episodes. Through simulation the viewer is invited to choose characters on the screen and the pick becomes the main character in the next scene.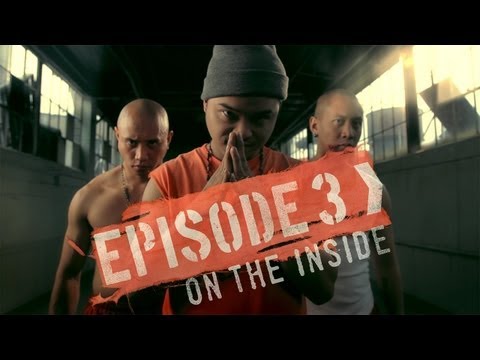 We learn about new inmate Christian his girlfriend and the incident that led to his recent incarceration. The story of long term inmate Shakespeare and his relationship with his wife and his 8 year daily letter writing to her.
At one point the crowd is asked to stand and do some boxing dance steps.
The interactive part of the documentary worked kept the action going and the crowd engaged.
Definitely a one of a kind event to be experienced.
Winner of the best Canadian feature for director Romeo Candido at reel Asian 2012.
*** out of 4