Seung-min (Tae-woong Eom) is a leading Architect for a large South Korean firm. He has lead many projects and is at the top of his profession. A former classmate from college Seo-yeun (Ga-in-Han) visits his firm. At first Seung-min does not recognize her but it turns out that Seo-Yeung was in class with him back in college.
After college Seo-Yeung married well and is looking to Seung-min to build her a house on the family homestead on Jeju island.
The film flashes back to their first year of college where both of them were very close and spent most of their time together. Seo-Yeung a Music student and budding presenter took the Architecture 101 course as a first year elective. Sueng-min had great affection for Seo-Yeung but acted as if there were just friends. Seo-Yeung knew of the affection but did not let on. His only display is a quick kiss while Seo-Yeung was asleep beside him at a bus stop.
They spent a lot of time in an abandoned house in Seung-Min's neighbourhood that they cleaned up and made a pact to meet there at first snow fall. Seung-Min promised to build Seo-Yeung a house and even completed a diagram and a rough model.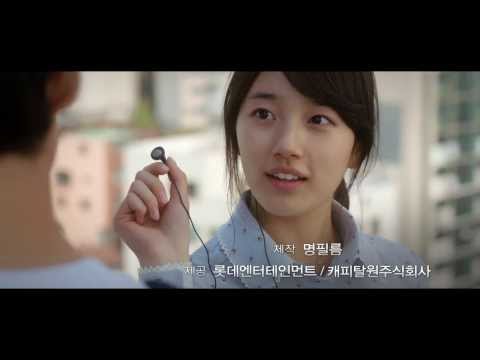 However Seo-Yeung took up with an older schoolmate at the radio station and while Seung was waiting to surprise her with is diagram at her apartment he sees the two of them coming home. He deposits the model in the garbage ending their college relationship. Seo-Yeung finds the model and the diagram and turns up at the abandoned house on the first snowfall as planned by Seung-min does not show.
Back in modern day the pair go out to dinner. Seung-min reveals that he is aware that Seo-Yeung is divorced and she is not pleased that he let her pretend that she had her act together for so long. She is also not happy that he is engaged and planning to move to America to start a new life with his fiancé and future wife.
Seo-Yeung has family issues as her father is in hospital and her plan is to have the house ready for him to live with her there after his release.
Sueng-min presses on and builds her house. Events towards the close of the film reveal that they each kept distinct souvenirs of each other and saw each other as their first and possibly only true loves.
Yong-joo Lee's film touches on many universal subjects first loves, missed opportunity, reconnection and resolution. The story is a bit melodramatic but that is to be expected with this subject matter.
Architecture 101
is a very watchable film but it does not break any new ground on the subject matter of unrequited love.
**
1/2
out of 4
Architecture 101 |Yong-joo Lee | South Korea 2012 | 115 Minutes.
Closing Gala 2012 Reel Asian Film Festival.