Aliki (Eliza Patsalidou) mourns the loss of her 4 year old daughter who died by accident one year ago. She spends many a day going to her daughters grave, in her daughters room looking at her daughters favourite clothes and wondering why her husband Andreas (Lefteris Salomides) does not show the same level of grief.
Aliki sees the report of a miracle in her town. The Icon of the Virgin Mary in the local church weeps real tears and performs miracles for the faithful.
Marios (Giorgos Hatzikyriakou) is and elementary school teacher who lives at home with is mother Demetria (Androulla Irakleous). His mother obsesses over Marois feelings, eating, relationship status and future. All the while Marois meets with random men in parks for sexual satisfaction or views the content of male explicit male magazines.
Aliki tries to reconnect with Andreas but their relationship has changed. Their conversations are different and Andreas spends more late nights at the office appearing to avoid Aliki. They are trying to have another baby without success Aliki believes that they are being punished for having been bad parents in the past. When she mentions the Virgin Mary and the topic of miracles Andreas shows that he is a not believer to Aliki disappointment.
An intriguing stranger Alexis catches Marois interest at the swimming pool. They arrange to meet and Marois begins to become generally interested. At this point he starts to ignore Alexis' phone calls while his mother becomes even more concerned with Marois evening outings often staying up until he comes home at night.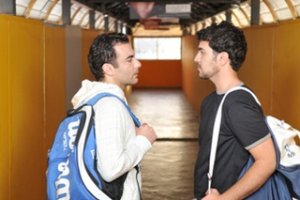 While at the cemetery to visit the grave of her late husband Demetra notices Aliki at the cemetery at the grave of her daughter and pauses to watch and consider the level of grief a mother must feel with the loss of a young child.
Aliki goes to the church and rubs the Virgin Mary Icon which is moist under the eye areas. Soon after pregnant Aliki collapses in the bathroom where Andreas finds her. She is admitted to hospital where she is treated by Nurse Demetra. The women have several conversations and Aliki gives Demetra a book on miracles.
The two main female actors Patsalidou and Eracleous gives a strong performances. However the visuals appear dull and soft. The story moves at a slow pace almost coming to a standstill in places.
Director Marinos Kartikkis has an interesting story to tell but as an entire project the film does not hold together.
** out of 4
By Miracle | Marinos Karikkis | Cyprus 2010 | 85 Minutes.
Opening Gala European Union Film Festival 2012.